Cumbria based Andy and Steve always knew they wanted a family and for them adoption was the only route to parenthood they were comfortable with.
They started their journey in 2018 with Cumbria County Council – one of the Adopt Coast to Coast partners – and their family of two grew to a family of four when they adopted brothers, then aged 1 and 2 that very same year.
Andy said: "Our adoption experience was a very positive one and it all ran very smoothly.  Within just three months of being approved our sons were living with us and it completely changed our lives.  Getting two children at such a young age was fun for me – I work with children, so I was in my comfort zone and having them is everything we could have ever wanted."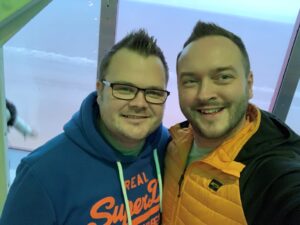 The brothers are now aged  2 and 3, and Andy and Steve  can't imagine their lives without their sons and would encourage anyone who is thinking about adoption to come forward, with Andy adding: "There's never a 100% right time to become a parent and just because your child isn't biologically linked to you doesn't mean you're not a parent.  Adoption has solidified our dreams and even our family and friends forget that our boys are adopted.
"It fills us with so much joy when we get feedback from nursery about our sons being polite and well-mannered little boys and you realise that is something we've done – that is directly our influence on them.  The boys had a tough start in life, and we know there will be a point where the difficult questions will come up, but we're building a strong foundation of love, honesty and security and we know they'll be comfortable coming forward to talk to us with any questions they may have."
Steve and Andy (left to right)