Steven and Robbie  welcomed Josh into their lives six months ago. Here's their story about what it's like to go through the adoption process – the highs and the lows.
"We'd do it again in a heartbeat!" That's the verdict from Steven and Robbie, who are in a fostering for adoption process with their lovely baby boy, Josh.
When Steven and Robbie first met, they both knew straight away that the relationship was right – and they also knew they wanted a family of their own. Robbie said: "We talked about children at our first date! So our relationship had the same goals, but to be honest at the beginning we just Googled a bit."
In 2019 they decided the time was right for them, even relocating so they'd be closer to their supportive family network if they were approved. They attended an information event run by the local authority, and then had a visit by a social worker.
Robbie said: "We didn't hear anything for a while after the training. We were assigned our fabulous social worker – but then along came lockdown! However, Covid didn't stop us building a really good relationship with her, and in some ways it worked better, because we could just jump on Teams and didn't have to book well in advance to speak."
Steven highlighted the need for lots of patience and understanding: "You need to get used to saying your story over and over – so don't get worked up about it, it's just part of the process. So too is the realisation that you will need to do lots of soul searching, which can be pretty confronting when you come to examine your own childhood up close."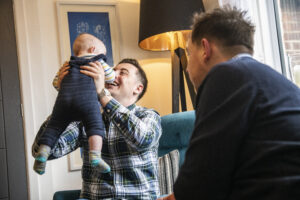 The couple agreed that the crucial thing was to be honest, with themselves and with their social worker: "You might be scared to rock the boat and want to present the best version of yourself. That's only natural, this is something you really want to make happen – but there's no way round the fact that you've got to be honest and open from the very beginning, and be prepared to explore everything about yourself, or this just won't work for you or your new family. And don't be afraid to ask about financial help like fostering fees and allowances."
The couple had been warned that they would be unlikely to get a baby – but their matching process didn't quite run to plan: "In our minds we had become fully prepared to welcome a slightly older child, maybe 18 months old, into our family," Robbie said. "We went in front of the panel – the longest 16 minutes of our lives – and were approved, which was such a huge relief for us. And then just one day later, we got a call to say, 'Come and meet a little baby'. It took a rapid and massive shift in our thinking!"
Robbie and Steven met Josh when he was just a baby and fell in love with this beautiful little boy. All of their energy then went on equipping their home with everything you need for a baby, as well as learning how to deal with bathing, bottling and nappy changes.
"That was a mad time, but the hospital staff were amazing and we also had our families on hand, so we felt a lot more confident about caring for him properly."
The journey has been even more emotional for the couple because they chose to go the fostering for adoption route, and the next big step is waiting for the court decision that adoption is the right thing for Josh.
Robbie said: "We're pretty confident that he will be staying with us and we can formally adopt him – but we'll all feel a lot better once that decision has been made. Whatever happens, we know we've given him the best possible start in life. He's a beautiful, normal, healthy baby, who brings us joy each and every day."
Steven added: "The adoption journey might seem completely overwhelming for some people, especially if you've been thinking about it for a long time – but it's all totally worth it.
"All the waiting and worrying, all the concerns about whether you've said the right thing or the wrong thing – just relax, be truthful and open with your social worker, and you could have your own forever family too."
Hear more about what Steven and Robbie had to say: